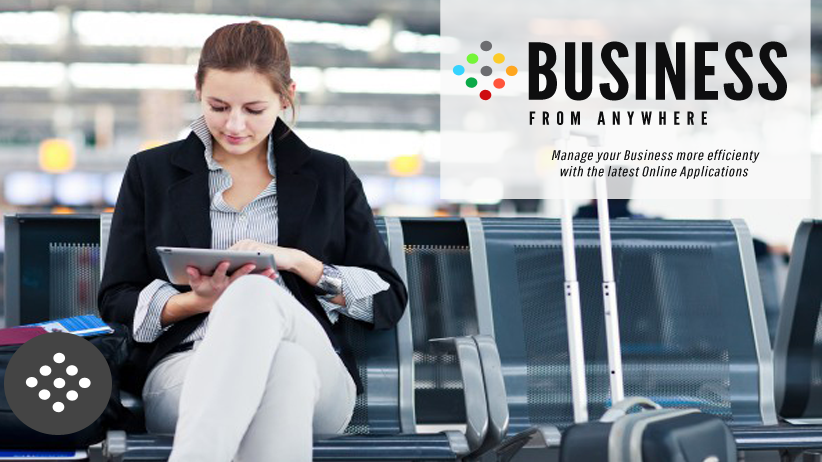 Business on the Move

Today more and more Business is conducted away from the Office by Business people on the move, this is primarily due to the availability of powerful portable devices like tablets and Smartphones as well as access to high speed virtual or cloud based services which facilitate business on the move This is a growing trend as its estimated  that the Cloud market was valued $148 billion in 2016 and growing is by 25% annually.

The advantages of Doing Business on the Move
Being able to conduct Business while on the move gives you a competitive edge as an entrepreneur. Because it reduces your downtime so you are still able to conduct your business wherever you may be. In order to give you such a higher leverage, it is important that you know some tips on how you can make your business more efficient while you are mobile.

Business on the Move Apps
We have assembled a list of Applications our Apps to help you do Business on the move effectively
You can access and signup to these services here online from one place saving you valuable time
Here are Apps that can help you Manage your Business better on the Move
PCloud ( Cloud Storage Systems )
A Cloud hosting service for all your Business Files and Documents, so access your
files on the Move
Patriot Software  ( Accounting & Payroll )
Simple and affordable online accounting and payroll software for Small Businesses.
MyBusinessGenie ( Small Business Management Service )
MyBusiness Genie is an easy way to manage your sales and workflow on the go.
Business Hangouts (Onlline Meeting)
Business Hangouts create a Webinar or a Web Conference in less than 10 seconds.

Other Benefits of Business on the move:
Moving important Files to the Cloud
being able to access all the documents that you need wherever you are, is very important.  Not being able to work in the office is a poor excuse of not being able to do your transactions and any business-related work. Thus, it is crucial that you make all your documents as well as forms online. There are many ways to make your forms available online and one of them is Google Docs. You can also save a back-up of your files in a USB and carry them with you.  Now if you are worried about confidential documents, you can always encrypt them for added security.
Use Virtual Communication Channels
Receiving and sending documents as well as communicating with your clients are now easier with the digital age. Take advantage of your email to send and receive important documents. If you want to send documents through fax, you can take advantage of virtual fax.
When it comes to communicating with your clients or staff, you can use the Voice Over Internet Protocol (VOIP) that allows you to talk via the internet. The good thing is that there are several reliable applications that you can use. When you use VOIP, you can use your local number in any location or even country you are currently located thus it allows you to be on the move and make your clients think that you are in your office.
Carry Back-Up Portable Power
Being able to do your business while on the move requires power. The thing is that all gadgets run on power these days and the last thing that you want is for your batteries to die in the middle of an important call or transaction. Thus, it is crucial that you always carry with you a portable power source to be able to charge your devices. Opt for high-quality inverters that can accommodate a wide range of electronic devices.
Apps for Business
Back to the Apps for Business page here 
Contact US
Need help or support for your Business?
We support Businesses of all sizes.
FREE Consultation
So if you would like to get a FREE Consultation
from our support team then please complete the following
online form with your details Here